FRP acid mist purification tower

Application range and structure:
Changjia BF FRP waste gas cleaning system consists of FRP centrifugal fan, FRP waste gas cleaning system tower, FRP ventilation pipe, FRP circulating water tank, plastic anti-corrosion pump, and etc. The complete set of waste gas cleaning system is a new-model cleaning equipment that is used in chemical, mechanical, electronic, instrument, electroplating and other industries for purifying high-concentration hydrochloric acid mist, sulfuric acid mist and nitrogen oxide exhaust gas. It has features such as high efficiency, compact structure, small floor area, corrosion resistance, aging resistance, light weight, convenient maintenance and installation, and etc.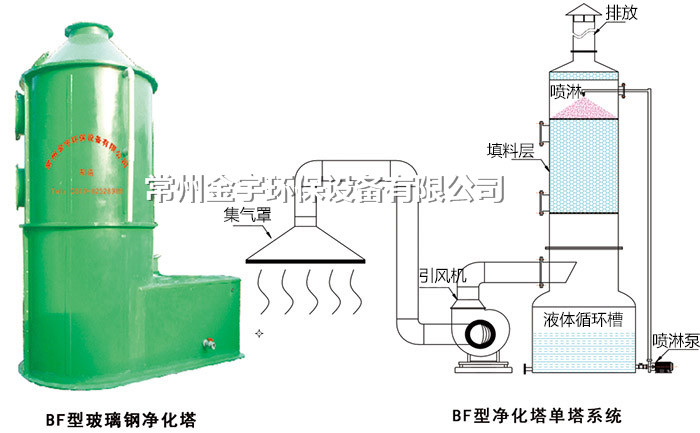 Specifications and technical parameters:
Exhaust gas treatment capacity
(m3/h)

Specifications of tower body(mm)
Tower diameter×net height
Supporting spray pump
Power(KW)
Supporting fan
Power((KW)
Air inlet
(¢mm)
Air outlet
(¢mm)
2000
600×3400
0.75
1.5
250
250
3000
800×3400
0.75
1.5
250
250
5000
1000×3400
0.75
3.0
250
250
8000
1200×3400
2.2
7.5
300
300
10000
1400×3700
2.2
7.5
350
350
15000
1600×3700
3.0
15
400
400
20000
1800×3700
4.0
22
600
600
30000
2200×4100
5.5
22
800
800
40000
2600×4100
7.5
30
1000
1000
50000
3000×4500
11.0
55
1200
1200