Plastic fan

Application range and structure:
Changjia 4-72 plastic centrifugal fan is produced according to principle of 4-62-1 metal fan and performance of hard plastic sheets. It is widely used in pumping toxic or corrosive gases at temperature of -8℃~+80℃in chemical, metallurgy, electroplating, rare earth, pharmaceutical, instrument, research, and other units for features such as good insulating property, light specific gravity, attractive and clean appearance, strong corrosion resistance, and etc.
Our fans can be divided into left rotating fan and right rotating fan two types, and their air outlet can be produced at the request of clients.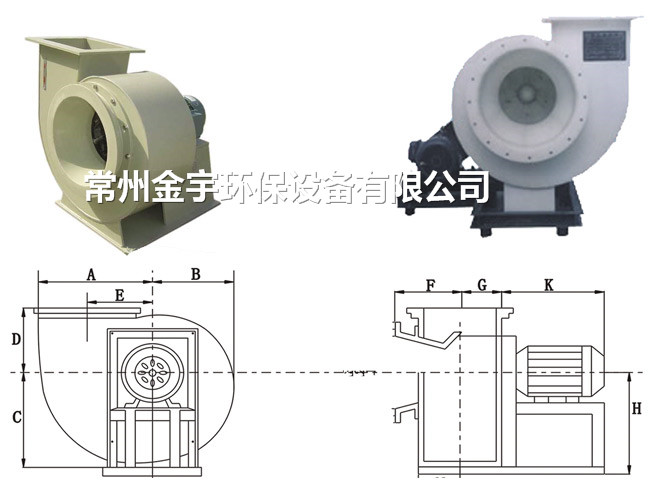 Specifications and technical parameters:
No.
(#)
Power
(KW)
Rotate speed
(r/min)
Air volume
(m3/h)
Full pressure
(pa)
Drive form
A type fan
2.5
0.75
1450
650-1200
215-156
Direct drive
3
1.1
1450
860-1590
284-196
Direct drive
4
1.5
1450
2010-3710
500-334
Direct drive
5
2.2
1450
3977-7358
794-549
Direct drive
6
4
1450
6840-12720
1039-785
Direct drive
8
5.5
960
10730-18560
897-677
Direct drive
C type fan
3
2.2
1800
3476-1880
382-582
Belt drive
4
2.2
1800
4635-2507
509-582
Belt drive
5
5.5
1800
9660-4830
780-1184
Belt drive
6
7.5
1800
16578-8288
1116-1760
Belt drive
8
11
1250
25279-13643
1106-1507
Belt drive
10
7.5
710
27717-19802
603-761
Belt drive
12
15
630
42498-30362
684-864
Belt drive